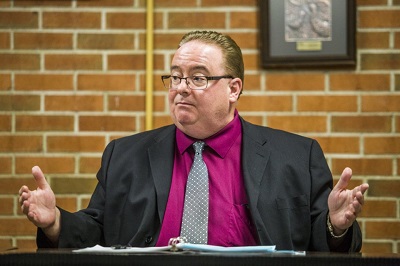 Trump pushes school choice to Congress
On Tuesday, during his first formal address to Congress, President Trump (R) joined previous Presidents George W. Bush (R) and Barack Obama (D) when he identified education as the "civil rights issue of our time." He asked lawmakers to "pass an education bill that funds school choice for disadvantaged youth, including millions of African-American and Latino children. These families should be free to choose the public, private, charter, magnet, religious, or home school that is right for them." While details are thin at this point in time, education stakeholders have been writing about various possibilities here, from directly funding a federal voucher program or creating a federal tax credit scholarship program, similar to what has been done in a dozen states. This will likely be the "cornerstone" education program of the Trump presidency, and we'll have more details as they become available. President Trump and Secretary DeVos are also visiting a private school in Florida today.

---
MDE's Whiston offers partnership model for failing schools to avoid closure
In a somewhat surprising twist of sorts, Supt. Brian Whiston this week made a last ditch effort to spare all 38 chronically-failing schools from intervention by the State Reform Office.  In a letter to the 8 local districts that oversee the 38 failing schools, Whiston is giving them until April 30 to sign a "Partnership Agreement" with MDE, which he claims will postpone or eliminate interventions by the State Reform Office.  It's an interesting question to determine if signing an agreement with MDE nullifies P.A. 192, the existing state law which requires SRO to intervene in chronically-failing schools. You may recall Governor Snyder delayed until early May any announcements from the SRO as to specific interventions for these particular schools. Faced with the choice between cooperating with MDE or potential closure by the SRO, we're willing to predict that all 38 schools will sign up with the department, leaving nothing for the SRO to announce in May. The process isn't over yet, but it's not hard to read the writing on the wall here.  It's too bad that most students in these 38 schools can't do the same.

---
GLEP Presents on Accountability at Senate Education Committee
At this week's Senate Education Committee, GLEP testified on the history of school accountability and the challenges presented by MDE's proposed ESSA accountability plan. We communicated our concerns that the state should increase the weight of both proficiency and growth; include college-and-career readiness and 3rd Grade reading proficiency; reduce the weight of the vague "school success" indicator, among other issues. GLEP still believes Superintendent Whiston, Senate Education Chair Phil Pavlov and House Education Reform Chair Tim Kelly should come to a clear understanding on the key features of the state's accountability plan and failing school law rewrite before the department submits their ESSA plan to USED.

---
Subcommittees continue work on FY '18 school aid budget
Both the Senate and House Appropriations Subcommittees on School Aid held hearings this week to further discuss the Governor's proposed $14.3 billion School Aid Budget for FY '18. Both appropriations subcommittees will continue hearings
on the FY '18 School Aid Budget in the weeks ahead, and are expected to conclude their respective work on the budget before the legislative Spring Recess in early April. Click here to download a district-by-district funding estimate of the School Aid Budget, produced by the House Fiscal Agency, which is based on the Governor's recommendation (don't spend the money just yet, folks!).
---
House Education Committee looks at accountability and transportation
Yesterday, the House Education Reform Committee, chaired by Rep. Tim Kelly (R-Saginaw Township) held another hearing on the issue of school accountability, and the committee heard presentations from Natasha Baker, State Reform Officer and Vanessa Keesler, MDE on the proposed "pa
rtnership model" of school intervention (see story above. It was a vigorous and engaging committee hearing, with very good questions and interaction between members and presenters. A key topic in the hearing was the issue of transportation, and what efforts the state could make in order to help students in struggling districts to attend higher performing schools that aren't within walking distance.
---
MDE seeks public comment on ESSA plan until March 16
As reported previously, MDE has released the final/draft state plan for assessments and accountability under the Every Student Succeeds Act (ESSA), the new federal education law. The department is seeking public comment on the plan through March 16, 2017.  Individuals and organizations are invited to submit comments
via email to: [email protected].  It's also worth noting the U.S. Senate is currently debating a bill to repeal the "Final/Draft" regulations released in November 2016 to implement ESSA. The U.S House has already passed a similar bill, and President Trump has indicated he will sign it. This means USED will be evaluating state plans based on a reading of the ESSA law alone, without the benefit (or hindrance) of 1,100 pages of regulations. This certainly supports the notion that states are in charge of the vast majority of decisions about school accountability.
---
Kansas Supreme Court says state must increase education spending
Kansas lawmakers have until the end of June to "fix" the state's school finance system after the Kansas Supreme Court ruled yesterday that the state had failed to ensure adequate funding for their public schools. The state is currently facing a $1 billion budget deficit, however, and coming up with an additional $800 million to increase education spending will be a tall order. Governor Sam Brownback has suggested providing vouchers and other school choice options for students in struggling schools as part of any school finance legislation. Click here to read more from The Kansas City Star.  Could this happen in Michigan?

---
Education Reform News Clips
---
Next Week
Monday, March 6
MDE ESSA External Stakeholders Meeting
WDET special broadcast on education in Detroit (7 pm)
Tuesday, March 7
1:1 meetings with new Representatives
Joint Senate/House Appropriations Subcommittees
House School Aid Appropriations Subcommittee
Senate Education Committee
Wednesday, March 8
Senate School Aid Appropriations Subcommittee
NAACP town hall meeting on charter schools
Thursday, March 9
House Education Reform Committee
1:1 meetings with new Representatives
Friday, March 10
Do you support what GLEP is doing to improve education in Michigan? Please consider making a donation to help us continue our efforts, and all contributions are very much appreciated!!
Respectfully,

Gary G. Naeyaert
Executive Director