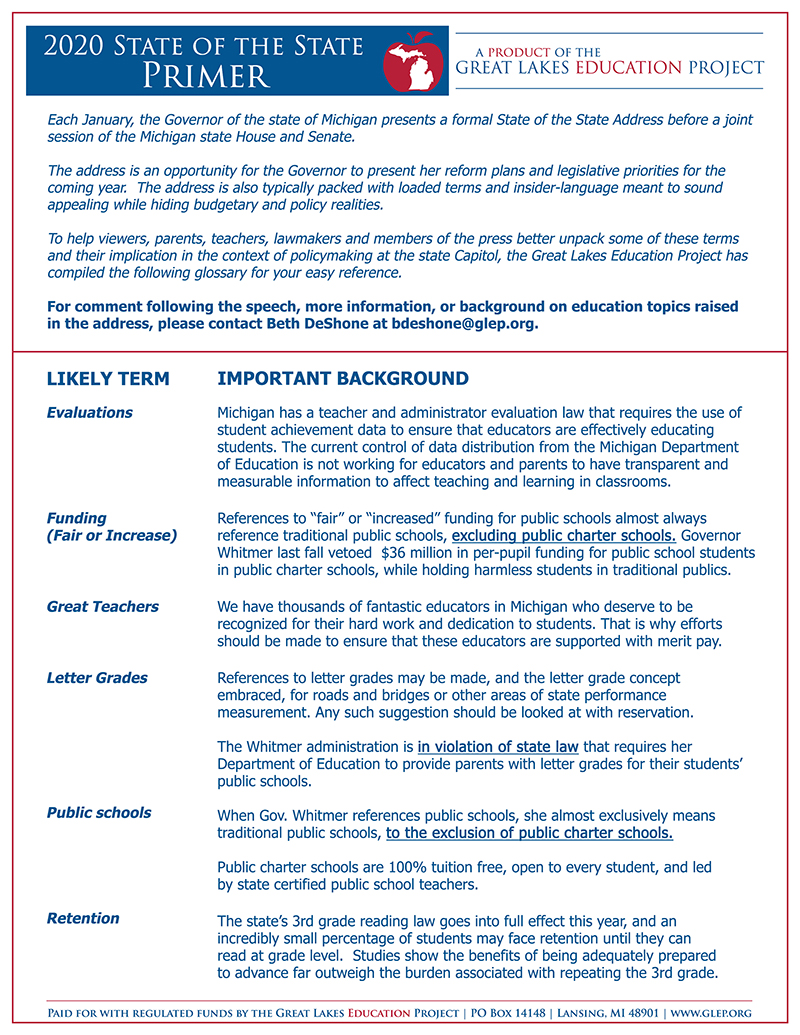 Today, Governor Whitmer will offer her second State of the State address. Last year she made vast promises but struggled to deliver – in particular for our students.
We witnessed her veto funding to some of Michigan's most vulnerable kids, using them as political pawns. Thanks to vocal advocates like yourself, that funding for Michigan's public charter school students was restored.
Our public charter schools serve a higher percentage of minority students and students receiving free or reduced price lunch programs with fewer dollars than their traditional counterparts, and with greater academic growth for students. Let's hope the Governor learned her lesson and uses the opportunity of the State of the State to announce that she will start treating every public school student equally.
As we continue to highlight, the Whitmer Department of Education has been breaking state law for more than 4 months by not producing school building A-F report cards. It is comical that she has used letter grades for our roads, but her department still refuses to create A-F report cards for schools, as required by law.
She has also advocated for elimination of the state's "Read by Grade Three Law". There is nothing more important than early literacy support for success in school and life, and eliminating that lifeline would devastate Michigan students.
Whether you watch the speech tonight or just catch the news clips afterwards, we thought it might be helpful to provide an "Education Primer", a list of terms that Governor Whitmer is likely to use in the speech that sound nice, but are simply more political speak for putting bureaucracy and unions ahead of students.
We appreciate you being an advocate for Michigan students. The Great Lakes Education Project will continue to fight on behalf of parents and students, to ensure every child can succeed.

Beth DeShone
Executive Director, Great Lakes Education Project