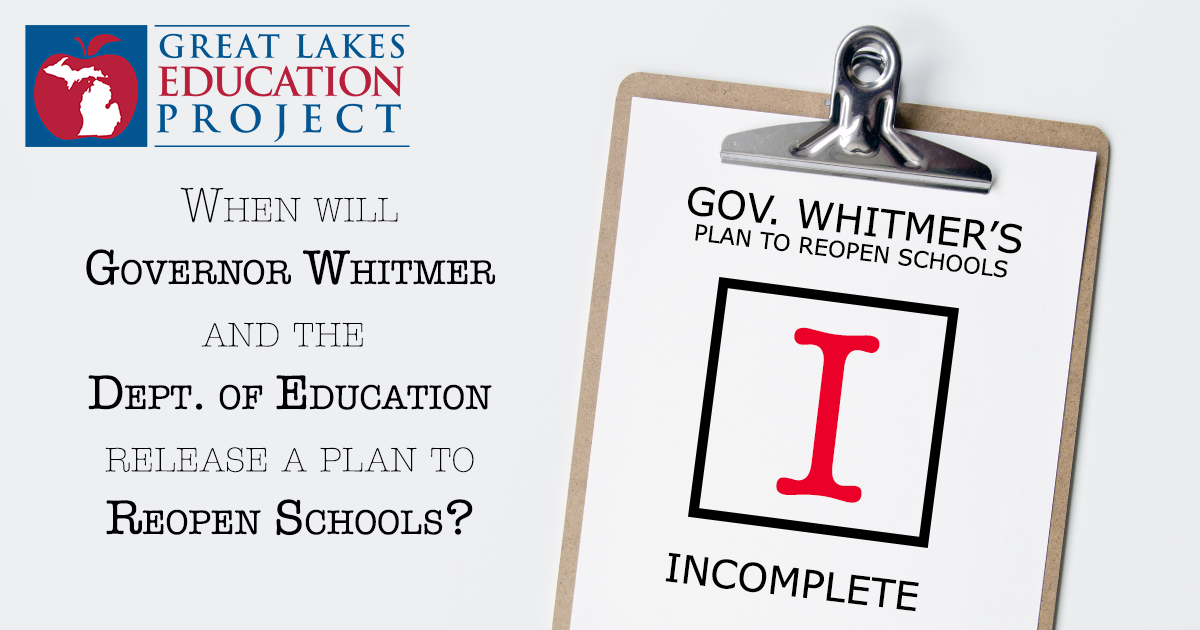 School buildings have been closed for more than two months, and districts statewide have submitted "continuity of learning plans" for the remainder of the 2019-20 school year, but Gov. Gretchen Whitmer and the Michigan Department of Education have yet to provide any public direction for the upcoming school year.
For a state that was among the first in the nation to close schools, and with our students' futures on the line, that's both unbelievable and unacceptable.
Reviewing the continuity of learning plans makes it clear that Michigan is full on one hand of incredible, dedicated and talented teachers, and on the other of a Department of Education and a governor determined to let kids and teachers down.
Whitmer and the department still haven't offered word one on a plan to get teachers and students safely back to classrooms, to discuss remediation for students who the bureaucracies leave behind, or to address parent and teacher concerns.
The Great Lakes Education Project is working nights, days and weekends to demand better.
We're working with lawmakers, we're working with teachers and school leaders, we're working with parents – and we're respectfully asking the Governor to do better.
Our kids deserve more than her silence.

Executive Director, Great Lakes Education Project

"Still crickets from the Governor and the Department of Education."
"Parents are learning better than ever how blessed we are by the many talented teachers who've dedicated their lives to meeting the needs of our children. We're fortunate so many have chosen the profession, and we're more impressed than ever during this crisis at how so many are innovating, finding new approaches to keep kids learning."
"Three weeks ago, GLEP called on the governor to get serious about Michigan students' educations, and to show parents the plan she, her Task Force, and the Michigan Department of Education had spent months, presumably, putting together. Turns out they hadn't put anything together at all."

Whitmer initially closed schools on March 16, and later expanded her lockdown orders to cancel the remainder of the school year.
Tragically for Michigan's kids, that's where the governor's national leadership on schools ended — with an order that locked kids out of the classroom. In the weeks and months that followed, state after state has laid out plans and begun taking meaningful steps to address learning gaps and prepare for the upcoming school year.
Instead of laying out the plan and preparing our teachers, schools, and families for this fall's safe return to the classroom, Governor Whitmer appointed a task force to study the issue.
Weeks passed, we asked for the results, and she responded by appointing an "Advisory Council" to advise the task force.
Even that committee hasn't started its work yet.
Neither, it seems, will Michigan's schools this fall, unless something changes soon. That'd be a tragic failure by Governor Whitmer, and Michigan's kids will pay the price.

Are you still waiting for Governor Whitmer's plan for schools this fall? 
Contact her today

and ask her to focus on the needs of students and release her plan today!
You can reach the Governor's constituent services office at (517) 335-7858.