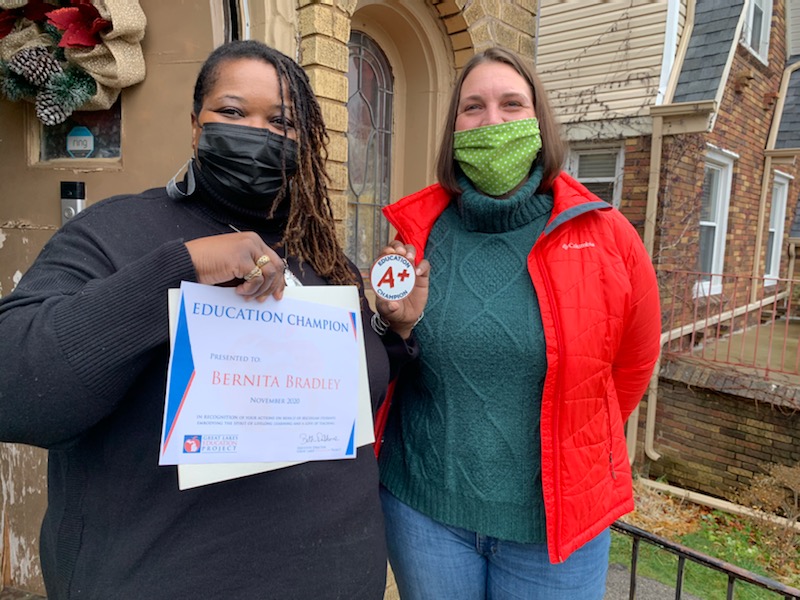 Detroit Mother, Student Advocate Named Great Lakes Education Project's Inaugural Education Champion of the Month  
Bernita Bradley Honored for Her Trailblazing Work Equipping Detroit Students, Parents with School Supplies, Resources During Pandemic
LANSING – The Great Lakes Education Project (GLEP) today applauded Bernita Bradley, a mother of 2 and the founder of Engaged Detroit, for her trailblazing work equipping parents and students in the city with the school supplies and resources they need during the COVID-19 pandemic.  In commemoration of her commitment to students, Bradley today was named the first ever winner of GLEP's "Education Champion of the Month" award.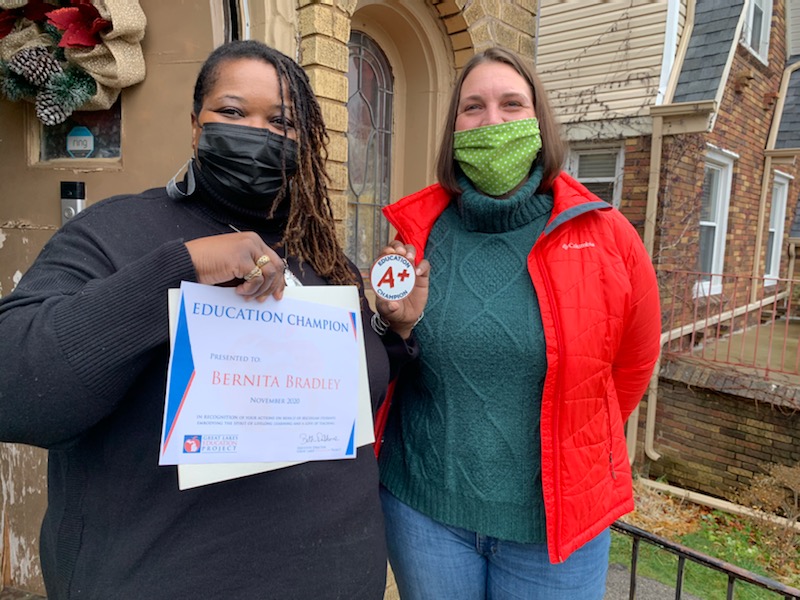 "Miss Bradley is making a real difference for kids across Detroit," said GLEP Executive Director Beth DeShone.  "Engaged Detroit is the kind of dynamic solution that parents are clamoring for as they adjust to schooling during a global pandemic.  Students will succeed because of Bernita Bradley.  We're honored to name her GLEP's first-ever Education Champion award winner."
Engaged Detroit is a homeschool co-op founded by Bradley this year to help parents and caregivers meet the needs of their students as Detroit schools announced plans for remote learning.
Through Bradley's work, students have access to backdrops, creative spaces, technology, supplies, partnerships with the Detroit College Access Network, African drum lessons, occasional safe, socially-distant educational field trips, and more.  She has also helped secure and provide training for teachers and caregivers to help them meet the needs of students during these challenging times.
"Students deserve the very best," said Bradley.  "It is a privilege to play a part in their education and to meet needs that make that learning possible."
Said DeShone: "COVID-19 changed everything for Michigan students.  Bernita Bradley is a real Michigan hero who saw that challenge and embraced it.  She's dedicated her life to students in Detroit, and the work she's doing today will mean a brighter future for the students she's helped for years to come."
Engaged Detroit is a parent and child driven partnership.  It is made possible by partnerships with the National Parents Union, the Skillman Foundation and more.  More information about Engaged Detroit is available on the co-op's Facebook page.
The Great Lakes Education Project is a bi-partisan, non-profit advocacy organization supporting quality choices in public education for all Michigan students.  GLEP strongly supports efforts to improve academic achievement, increase accountability and empower parental choice in our schools.
###