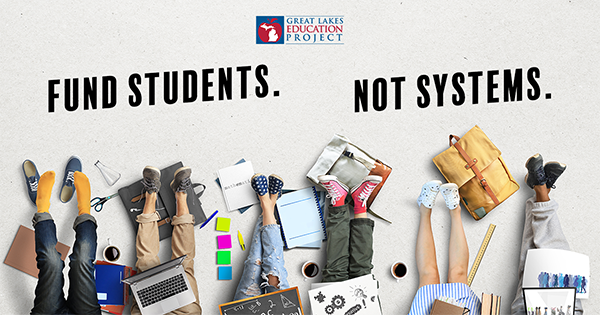 Lansing's public school bureaucracy is at it again.
Just days ago, their advocates in the legislature tried to ram through a devastating amendment to the state's school budget that would have slashed funding for online learners – during a global pandemic.
It was just bureaucrats' latest attempt to defund students whose parents choose a learning option for them that doesn't fit the preferred political narratives.
The good news? Teachers, parents and activists have been fostering relationships with lawmakers for years, and the legislature understands how important online learning is, particularly during the COVID-19 public health crisis.
Lawmakers defeated the disastrous amendment and they stood up for kids.
The bad news? The big Lansing public school bureaucracy isn't done.
They're scrapping and clawing in lawmakers offices, in their town halls, on their Facebook pages, and anywhere else they can find them to influence the way the legislature spends billions in education and federal COVID relief funding.
We have a novel suggestion for Lansing, too. Funding should back students, not systems.


Beth DeShone
Executive Director, Great Lakes Education Project

Associated Press: Whitmer asks for 2-week pause of Michigan youth sports, indoor dining, in-person learning
The Great Lakes Education Project, a group with ties to the DeVos family, said kids deserve "safely open classrooms."
Politico: 'Parents are powerless': Students face being held back after a year of remote learning
"If their reading is more than one grade level behind, we owe it to them as adults to ensure that they get the commitment of intervention services," DeShone said in an interview. "Rinsing and repeating is not successful."

The fight to protect online learners during a global pandemic – when just about every family in the state has months-long experience with the challenges of online learning – highlights the perpetual tension in Lansing between systems and students.
Lansing's big bureaucracy wants more money, more offices, and more central decisions.
We think there's a better way; equipping students and parents with resources and options.
Making sure the state's next big education investments deliver the goods is going to take each of our voices, yours and ours. It's going to take a commitment from local school boards, from superintendents, from lawmakers and Governor Gretchen Whitmer to do something important the next time they open taxpayers' checkbook – they're going to have to put kids first.
When the bureaucracy gets bloated, students get left behind. When the bureaucracy calls the shots, they slash funding for online learning while tens-of-thousands of students are forced by a global pandemic to learn online.
Enough is enough. We hope you'll speak out today.
Your local school district needs to hear from you today.
Contact your superintendent. Plan to attend your next school board meeting. Speak out.
The public school bureaucracy won't stand up for your kids. It's up to us.