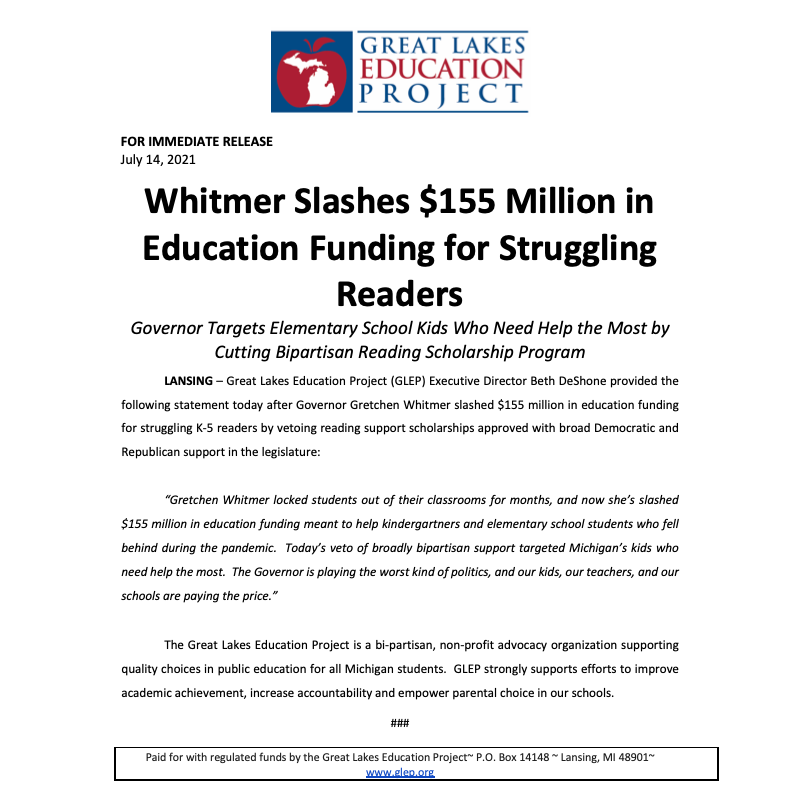 Whitmer Slashes $155 Million in Education Funding for Struggling Readers 
Governor Targets Elementary School Kids Who Need Help the Most by Cutting Bipartisan Reading Scholarship Program
LANSING – Great Lakes Education Project (GLEP) Executive Director Beth DeShone provided the following statement today after Governor Gretchen Whitmer slashed $155 million in education funding for struggling K-5 readers by vetoing reading support scholarships approved with broad Democratic and Republican support in the legislature:
"Gretchen Whitmer locked students out of their classrooms for months, and now she's slashed $155 million in education funding meant to help kindergartners and elementary school students who fell behind during the pandemic.  Today's veto of broadly bipartisan reading support targeted Michigan's kids who need help the most.  The Governor is playing the worst kind of politics, and our kids, our teachers, and our schools are paying the price."  
The Great Lakes Education Project is a bi-partisan, non-profit advocacy organization supporting quality choices in public education for all Michigan students.  GLEP strongly supports efforts to improve academic achievement, increase accountability and empower parental choice in our schools.
###