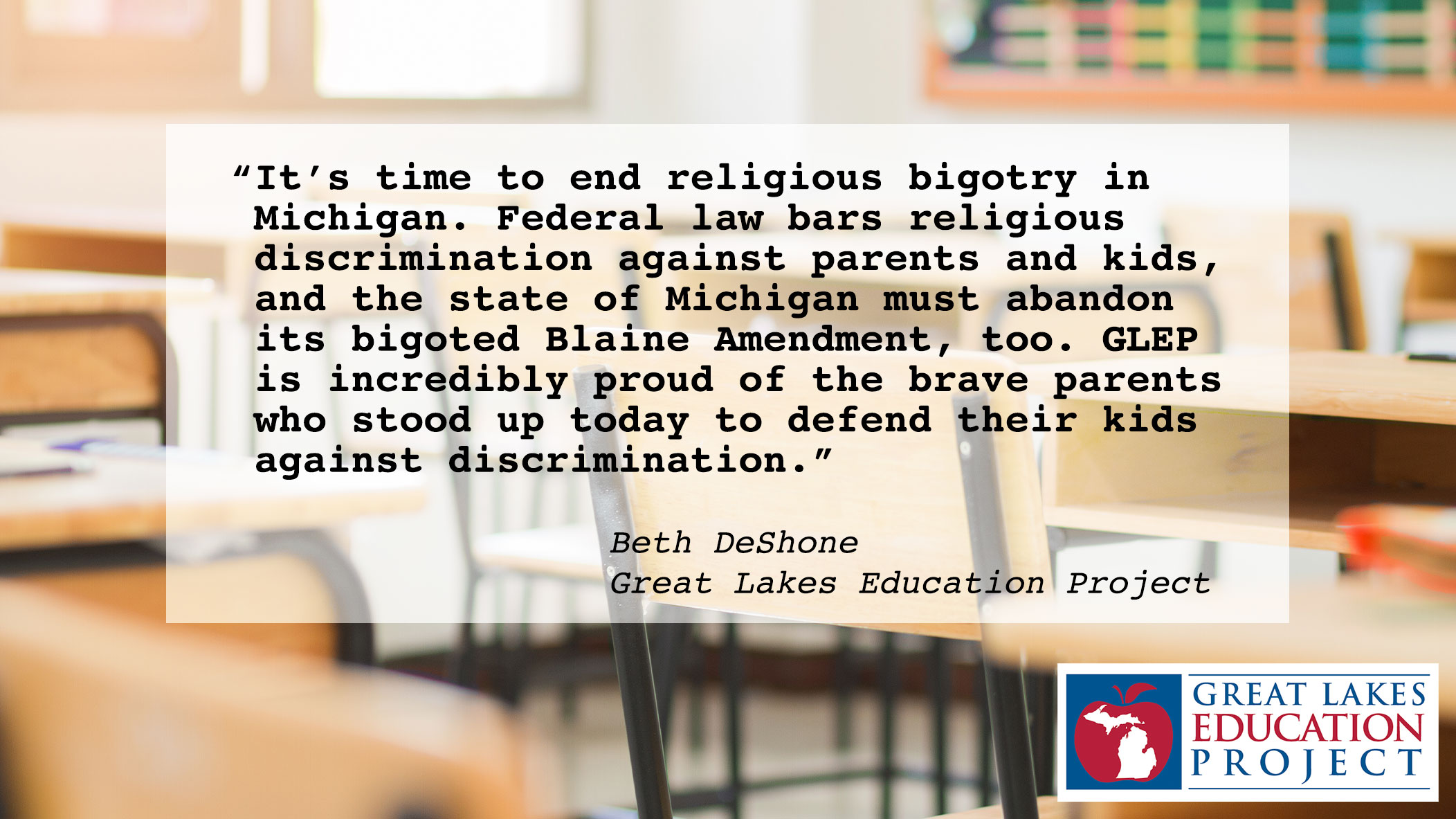 Just days ago, parents across the state of Michigan filed a lawsuit in federal court to overturn Michigan's "Blaine Amendment" that discriminates against families based on their religious faith.
The Michigan rule prevents parents from accessing Michigan 529 accounts to cover education expenses of their choice, even though a recent United States Supreme Court ruling struck down similar bigoted amendments across the country.
Now brave local parents stood up and said "enough." They're going to the mat to protect their kids, and to expand educational opportunities for every student in the state for generations to come.
Ben DeGrow writes in National Review:
"Michigan's Blaine amendment effectively prevents tax-credit scholarships, vouchers, education-savings accounts and other popular school-choice policies used in other states. 
"All of Michigan's neighbors — including Ohio, Indiana, and Wisconsin — have enacted such policies, in one form or another. Families in those states have greater freedom when it comes to educating their children."
It's time Michigan join that list. Thanks to the bravery and resolve of Michigan parents, we just might.

Beth DeShone
Executive Director, Great Lakes Education Project


It's time to end religious bigotry in Michigan. Federal law bars religious discrimination against parents and kids, and the state of Michigan must, too.
That's progress. For more than 100 years, it's been legal to discriminate against parents of faith. In fact, dozens of states, including Michigan, enacted so-called "Blaine Amendments" to discriminate.
Blaine Amendments are constitutional and legal provisions at the state level rooted in 19th century anti-Catholic bigotry. They are named after a reviled 19th century bigot, Senator James G. Blaine of Maine, who waged a long legal war to discriminate against Catholics by waging war against their children's education.
Now Michigan parents are fighting back to defend the religious and education rights of every family in the state.
This is a fight for their kids' education and so much more. It's a fight for religious freedom. It's a fight against bigotry. It's a fight for a better future.