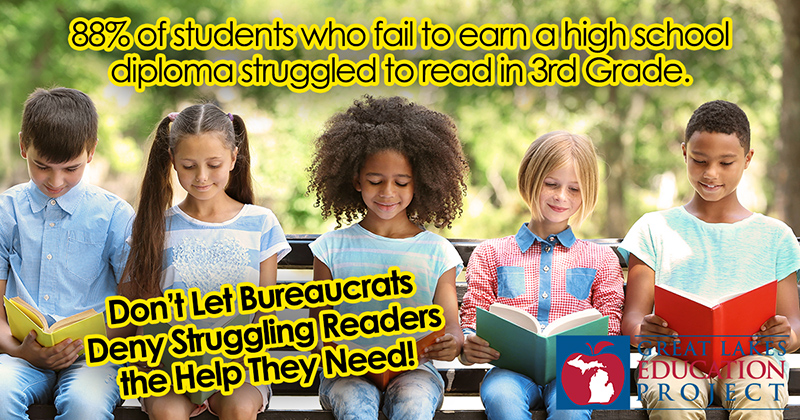 Michigan's 3rd Grade Reading law was written, approved by the legislature, and signed by the previous Governor because evidence and experience shows it's an approach with remarkable benefits for kids – benefits that can improve the entire trajectory of their lives.
Reading at grade level by the end of 3rd grade is critical because that's the time when the classroom approach shifts from learning to read to reading to learn. Its importance extends well beyond 4th grade, though.
Studies tell us that 88% of students who fail to earn a high school diploma were struggling readers in 3rd grade. 3rd graders who can't read are 4 times more likely than their peers not to graduate. The numbers are more troubling for African American and Hispanic students, who are 6 times more likely to drop out or fail to graduate than their peers if they're not reading proficiently in 3rd grade.
So it's troubling when we hear reports from public school's that they plan to ignore the law this year, deny struggling readers extra help, and move kids to the next reading level even when they are not ready.
Now, after action this week in the state House to eliminate the per-pupil funding gap in the state's foundation allowance for public schools, there should be no excuse to provide struggling readers with all the support they need, even if that means an extra year of reading instruction.


Beth DeShone
Executive Director, Great Lakes Education Project

Michigan's Big Show: Beth DeShone discusses the case for school choice with Michael Patrick Shiels

7 out of every 10 prison inmates cannot read above a 4th grade level.
That's not indicative of a problem. It screams to a problem – and one we can help solve today.
Michigan's 3rd grade reading law requires schools to step in and help students who fail to read at grade level by the end of 3rd grade. That help includes reading coaches, tutors, personalized education plans, and even something called retention.
Contrary to what the bureaucrats want you to believe, the law doesn't automatically "flunk" a struggling reader but requires schools to invest in interventions based on the unique needs of each student, including the option of an additional year of reading support.
Refusing to get struggling readers the help they need doesn't just set them up to struggle next year – it sets them back for the rest of their lives.
Record-breaking funding from the state is now available to help districts meet students' needs.
Public school bureaucrats are out of excuses. Our kids are counting on them to deliver.