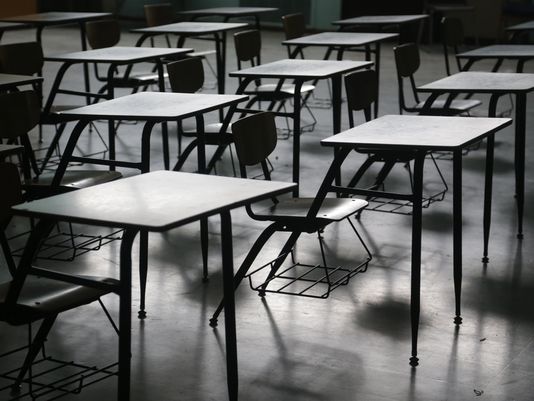 Michigan Department of Education Continues to Fail Lansing Area Students, Parents
GLEP report card, Reading and SAT scores show Ingham, Eaton, Clinton County schools too often fail to adequately teach, prepare students
LANSING— The Michigan Department of Education has for more than 100 consecutive days broken the state's reporting law, failing to meet transparency requirements and refusing to publish easy to understand school report cards.
Last month GLEP presented the state Board of Education and every member of the state Legislature a new, comprehensive report including A-F letter grades for public schools in the state, calculated using the Michigan Department of Education's publicly available 2017-2018 School Index data.
While the Department hides local school performance from parents, GLEP used the guidelines found in the state's reporting law to craft report cards, measuring each school's performance for students' math and reading proficiency; math and reading growth; performance with English language learners; graduation rates; and a comparison to like schools.
The details behind the report cards illustrate the need for parents to receive information about the performance of their kids' schools. Unfortunately, these details paint a bleak picture when examined alongside 3rd grade reading proficiency statistics and SAT scores that measure college readiness.
The A-F report cards for Ingham, Eaton and Clinton County schools indicate:
50% of schools received a C or lower in math and reading proficiency.
18% percent received a D or lower in math and reading proficiency.
53% received a C or lower in growth since the last school year.
80% of applicable schools scored lower than 50% in SAT college readiness.
59% of applicable schools saw less than half of students reading proficiently by 3rd grade.
Only 2 area schools received straight A's on their report card.
It is important to note that a "C" may denote an average score based on performance of other schools in Michigan, but does not denote acceptable performance for our students. As the data behind the grades shows, an elementary school may be graded at the "C" average yet still fail to help half of their 3rd grade students achieve proficiency in 3rd grade reading. The same is true for our high schools in SAT preparedness.
"Our kids get report cards so we can measure their progress, praise their successes and get them the help they need, and state law says our kids' schools get report cards, too," said Beth DeShone, Executive Director of the Great Lakes Education Project.  "The results show that the education bureaucracy is standing in the way of preparing our students in the most basic subjects.  Students at far too many local schools are not receiving the education they deserve, they're not reading proficiently, and they're not ready for college. Failing our kids cannot be allowed to continue.  Until parents are presented with clear information and we all face these challenges honestly, our schools will continue to fail to overcome them."
Michigan public school report cards are available for review by parents, policymakers, and voters at www.glep.org/a-f.
###
METHODOLOGY
The law defines the five required reporting areas as:
Proficiency:
Measures number of students in a school building that meet the state criteria for proficiency in Math and ELA.
Growth:
Measures number of students in a school building showing one year's growth from their starting point.
English Language Learners:
Measures students who have less than two years of English instruction.
Graduation Rate:
Measures the 4-year, 5-year and 6-year cohorts of students graduating in that building.
Comparison of Like Schools:
Measures proficiency grades of buildings with similar federal free lunch populations.
GLEP's Michigan School Building Report Card applied a standard bell curve to published state data, creating a grading system that provides grades of:
"A" for schools in the top 10% in one of the 5 reporting areas,
"B" for those in the 66.7th to 90th percentile;
"C" for those in the 25th to 66.7th;
"D" to those in the 5th to 25th percentile; and
"F" for those in the bottom 5 percent.
Public Act 601 requires that in each reporting area not more than 5% of schools receive an "F."