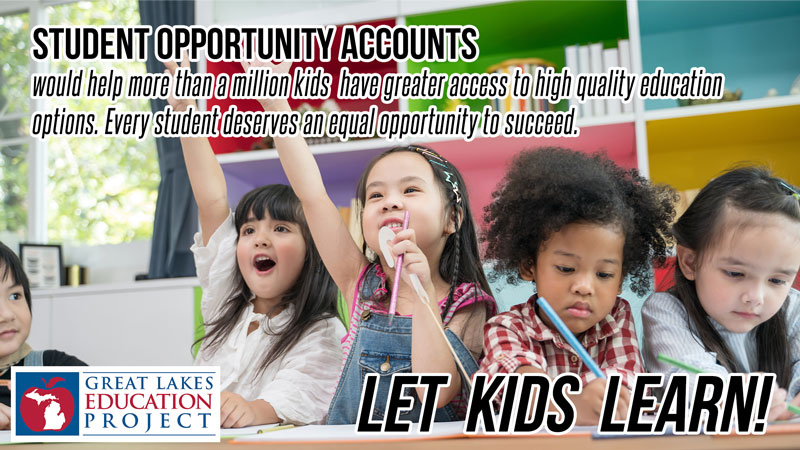 All children deserve an exceptional education. We think it's time for Lansing to trust parents, not bureaucrats, to make the best decisions for their kids.
The pandemic took a heavy toll on Michigan students. Now's the time to support our kids, to give parents more control, and to expand opportunities for every student.
Good news. It's happening!
Last week, the Michigan House and Senate voted on a package of bills to give every student in every community the chance for success. The bills, which are due for final votes later this week, would create Michigan Student Opportunity Accounts to equip families with grants and benefits they can use for any education or learning expense – both inside and outside the classroom!
We have a solemn responsibility to the next generation. Giving students the problem-solving and critical thinking skills they need for the real world tomorrow means providing them more opportunities today.
Now lawmakers need to hear from you. We hope you'll join us today in contacting your own state Representative and state Senator and ask them to vote YES on Michigan Student Opportunity Accounts. Ask them to let kids learn! Most importantly, we need Governor Whitmer to understand that if she vetoes these bills, it is a veto against over 1 million Michigan school students. She needs to hear from you!

Beth DeShone
Executive Director, Great Lakes Education Project

According to Governor Gretchen Whitmer, parents, and recently released M-STEP assessment scores, the pandemic took a real toll on Michigan students both in-and-outside the classroom.
Every child deserves a fair shot to succeed, no matter their background, their family's income, or their learning challenges. Michigan Student Opportunity Accounts will allow students to access the school, services, and tools they need to meet their individual learning needs.
Parents can use Student Opportunity Accounts to provide their kids new learning opportunities, including:
Online classes

Wi-Fi and laptops

Tutoring and tuition

Transportation

Skilled training and CTE expenses

Text books and curriculum materials

Summer school and after school programs

Occupational, behavioral, and speech therapies that help their children succeed in school

Mental health services, and more
21 other states – including "blue" states – have already enacted educational opportunity programs to give families greater access to high quality education options. Every child in Michigan deserves an equal opportunity to succeed, too.
Our students' future won't wait.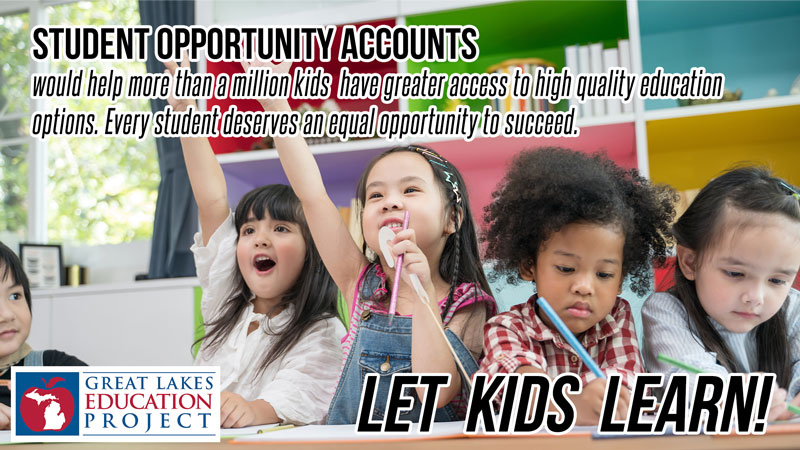 Your state lawmakers need to hear from you today.
Will you contact your state Representative and state Senator today? Ask them to support Michigan students and families. Ask them to let kids learn!
Call Governor Whitmer and tell her not to veto education funding for more than 1 million Michigan school students.
Don't know how to contact them? Finding them (and their contact information) is as easy as clicking here: HOUSE, SENATE and GOVERNOR.